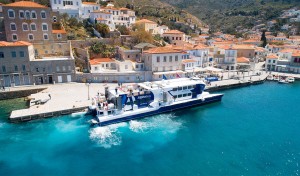 The Agapitos family has a tradition in the coastal shipping trade by being actively involved since 1964.
The company was founded by Vasileios A. Agapitos, a self-made businessman who was born in Athens in 1933 from Asia Minor refugees. From the time of its establishment and until its merger with Minoan Flying Dolphins, the company was mainly active in the Cyclades routes and other regions such as the Adriatic Sea, the Ionian Sea, Ikaria-Samos and the Dodecanese.
From 2000 and until 2018, the company held a stake in the share capital of Hellenic Seaways, while Antonios Agapitos, active in the industry as a shipowner since 1983, served on its Board of Directors, as its Vice-Chairman and as CEO from 2013 until the sale of the company to Attica Group in 2018. In 2019, Vasilis Agapitos, who entered the coastal shipping industry in 2012, continued the family tradition and founded ALPHA LINES, adding the state-of-the-art passenger high-speed craft SPEEDCAT I to its fleet in 2020.